June is almost over.  What!?  This summer is just flying by. 
It's been a great one so far though, lots of twists and turns that keep me on this continuous evolutionary journey of sonic exploration.   
Ok, that was just a long way of saying "I keep on keepin on."  This past month was another busy one!   (Scroll down to the bottom or check out my shows page if you just want to see where I'm gonna be and not where I was)
When the month started we were neck deep in the Penguins playoffs.  In fact due to the playoff schedule I got one more gig tacked on to the end of May at the last minute, making a return appearance at the Beerhead Bar right next to PNC park.  The timeslot was a perfect fill between the afternoon Pirates game and the big game 7 to decide who would advance to the Stanley Cup Final series!.  The streets were totally closed off around the bar and crowds were everywhere!  We had a blast at Beerhead, even pulling a few random folks up on stage to sing with me.  I got to cheer with the bar crowd (while I packed up my gear) as we watched the Pens finish off the series.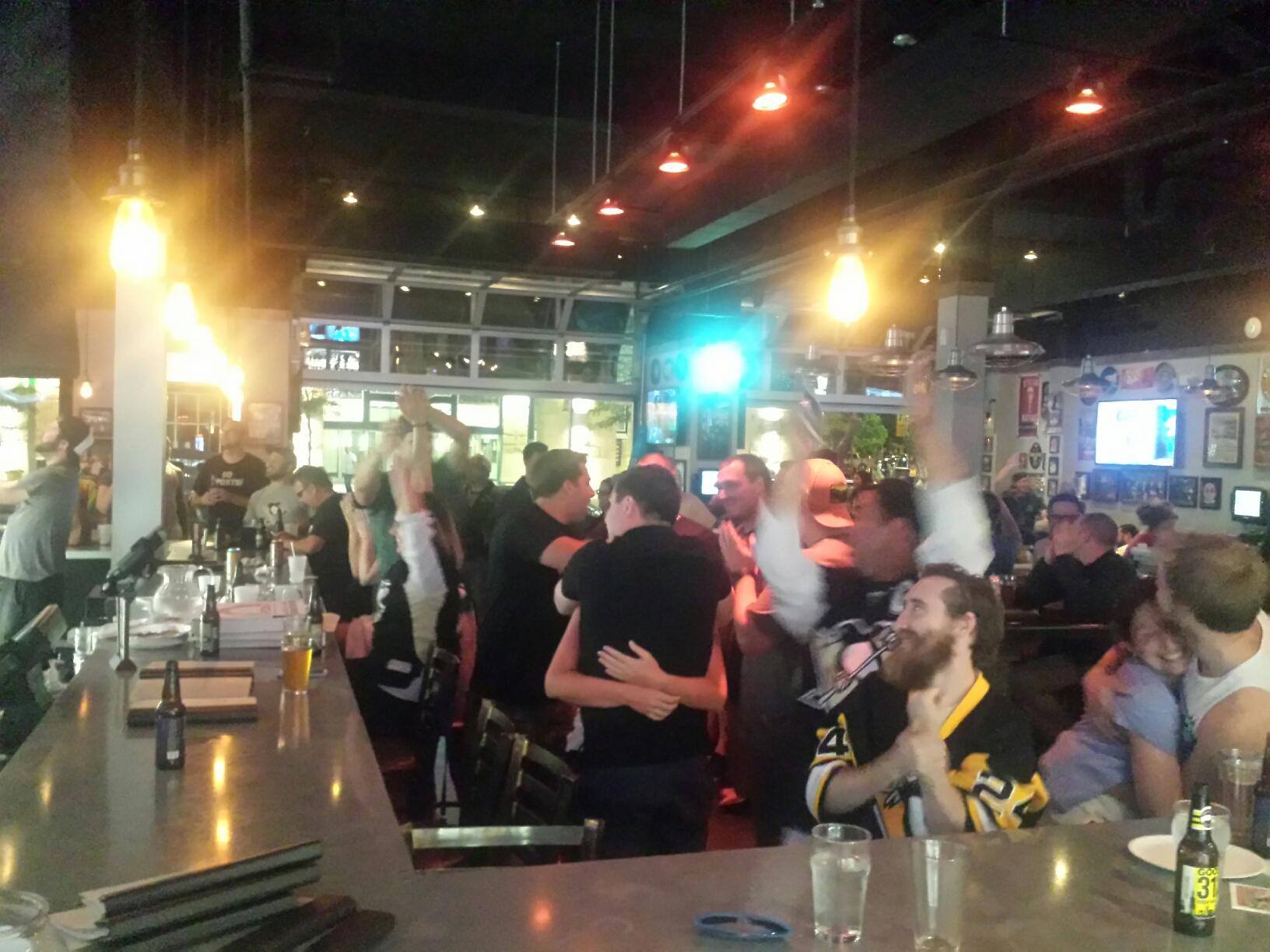 Beerhead Bar patrons celebrate another Penguins victory!
 
For the first weekend of June, I had a three-gig run.   
On Friday I helped kick off the Layer Cake Music Festival by playing an early evening set at the James Street Gastropub's dining room.  At the same time, my good friends in the Stationary Pebbles were rocking it out in the upstairs ballroom.  And another artist was jamming in the basement speakeasy.  There was no shortage of music to be had all around as four venues joined in the fun to host over 170 bands over the course of Friday and Saturday.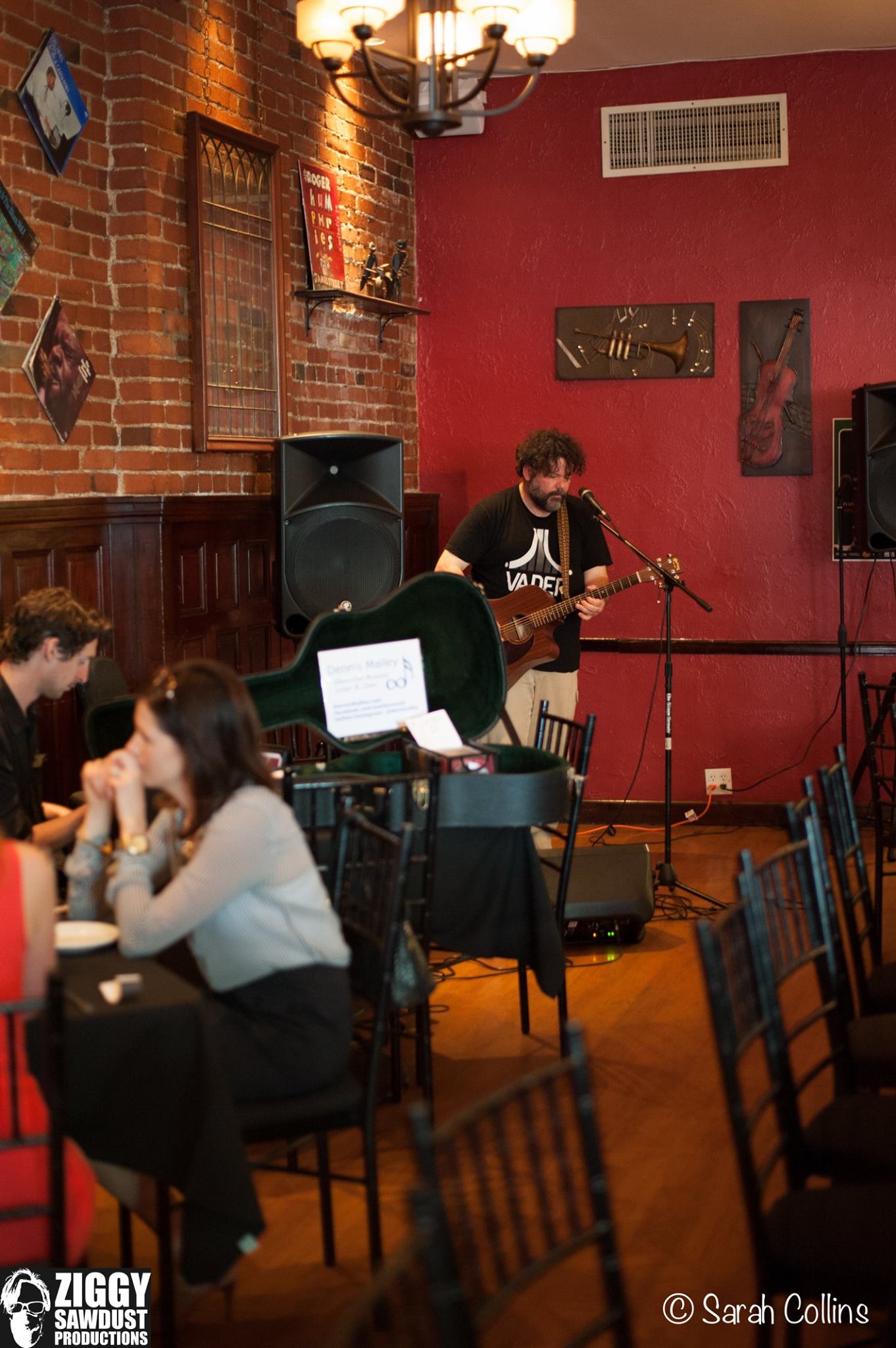 Playing the James Street Dining Room
 
Afterward I headed up to New Castle for a return visit to The Commonwealth.  This time I was joined by Dave Hamilton as we continue to do duo shows under the name Brother From Another Mother, or BFAM for short.  You'll start to see a lot of BFAM shows in my schedule going forward.  We are also working on getting a full band lineup and have been joined on stage by various guest musicians as well.  Most of the time we start off with a specific song list but then just cut loose and improvise and have been coming up with some crazy stuff.  It really is a blast, no two shows are the same, and that's just the way I like it. 


BFAM Jams the Commonwealth
The third gig of the weekend was at a boat launch site, actually a ribbon cutting celebration, as the Allegheny Aquatic Alliance commemorated the opening of two new launches along the Connequenessing Creek.  This was another BFAM event, and since Stationary Pebbles were there to play after us, we got joined by  their rhythm section, Sam on drums and Brandon on bass.  They ripped it up!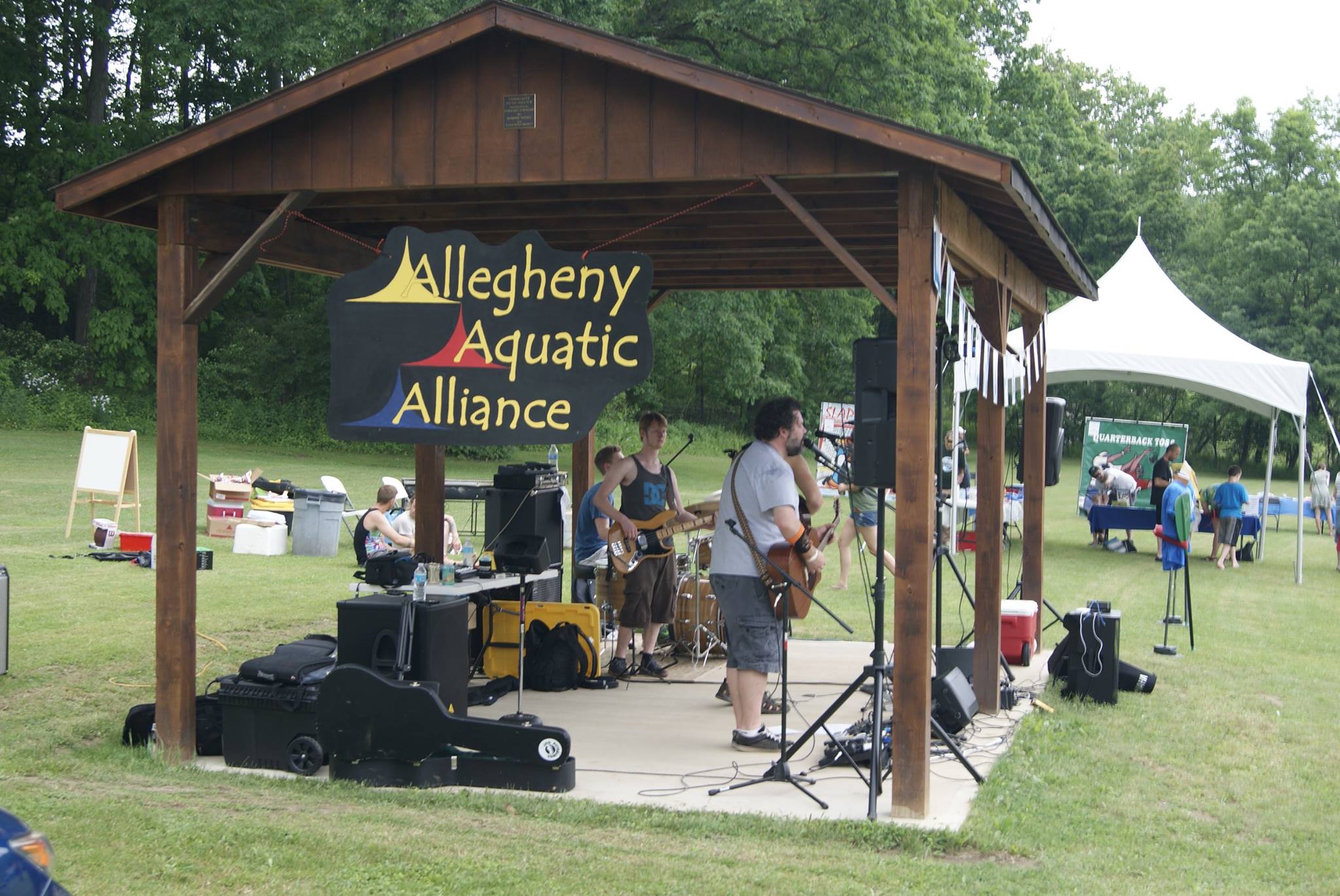 Jamming the boat launch with special guests Brandon and Sam!
A week later I played at the Harmony Springfest, an annual event in the little town of Harmony.  It's kind of like a Farmer's Market for the start of the season - the centerpiece being lots of starter plants for sale to get the garden going, with lots of other great activities and vendors throughout town.  We made part of this a BFAM jam as well.
That following weekend started early with a Thursday gig at The Sports Grille, that I had initially cancelled due to rain.  But after the worst of it passed I saw blue skies, and I got a text from my friend Biddy telling me he and about a dozen other people had arrived for the happy hour show!  So I hightailed it down there, management was accommodating, and I set up and played a slightly smaller set!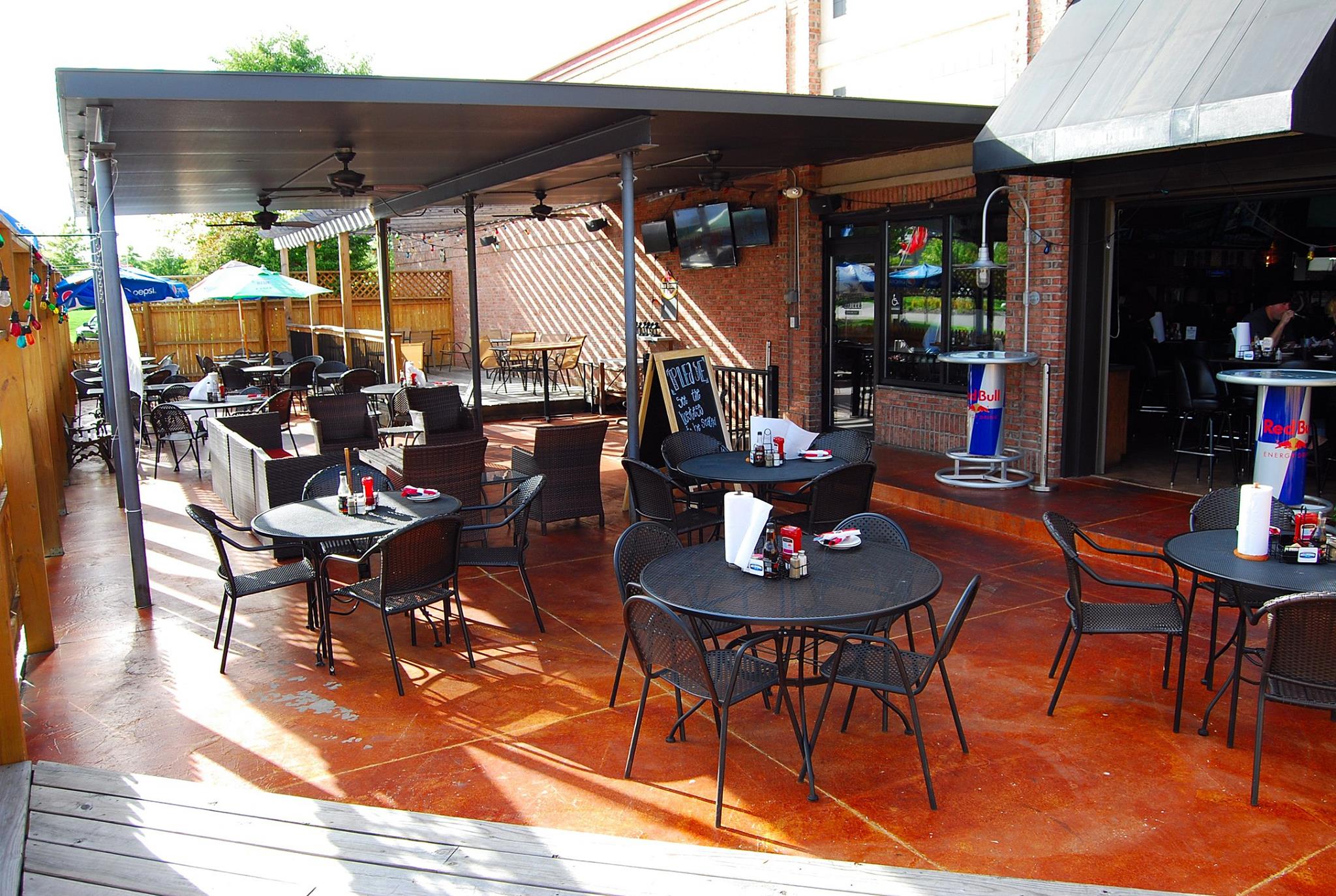 Nice patio space at the Sports Grille

Friday was a fun gig running sound for Old Game, with When Particles Collide and Zoob. I got to decipher the sound system at Bloomfield Bridge Tavern, ironically where I started out about six years ago when I decided to get back to live performing after a long hiatus.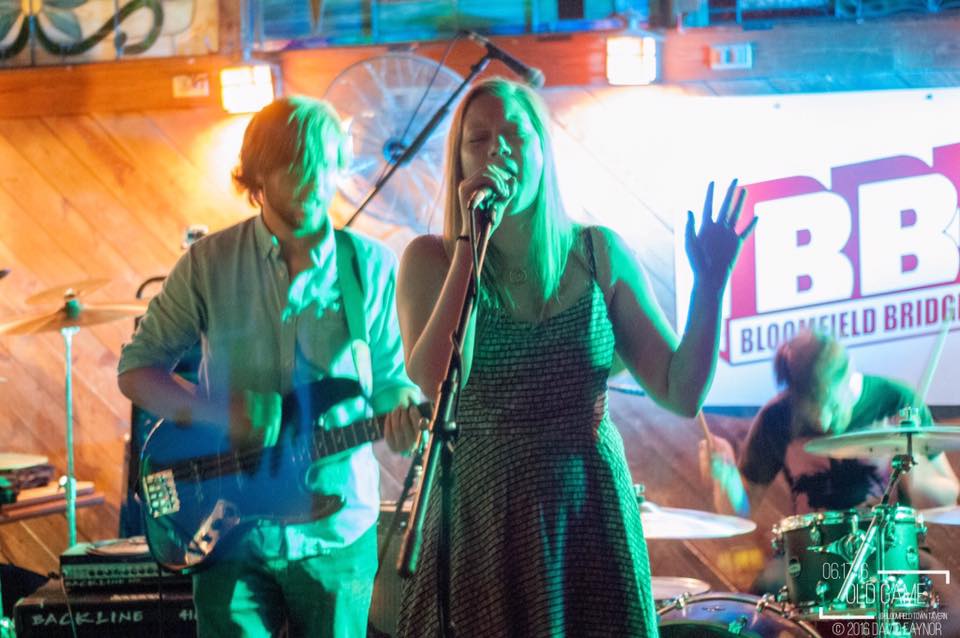 Old Game rocks BBT

Saturday was a LOT of fun, playing in the great Zelienople amphitheater.  I also got to help run sound there - me and Dave were sandwiched between two awesome bands, The Chop Shop and Bees Trees.  If you haven't seen a Zelie amphitheater show, you need to get up there!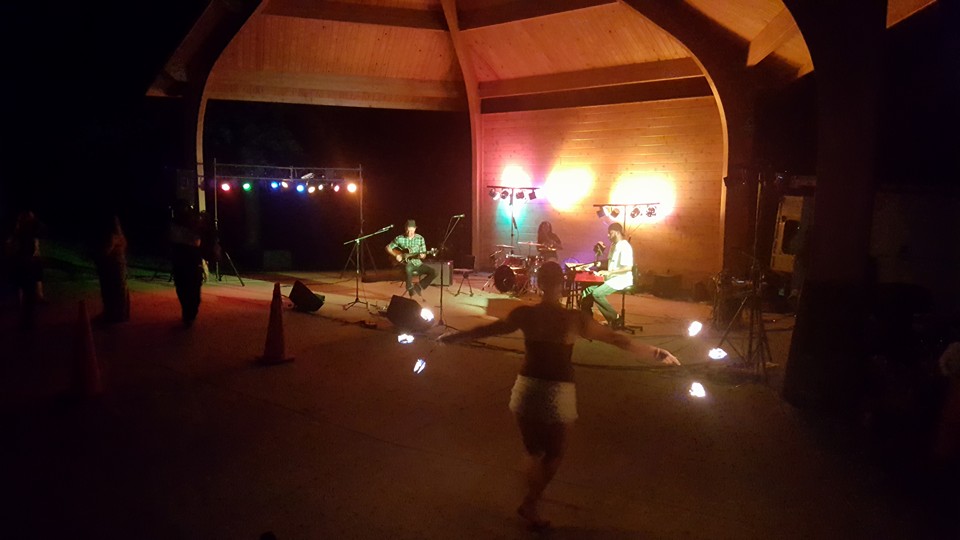 Chop Shop with Sirkus Days fire dancer
 
With one more weekend left in June, BFAM played out in Freeport in a great little park next to Wolfie's Pizza Hearth.  George Wolfe (Wolfie's owner) joined us on drums, and the perfect weather along with a very enthusiastic crowd made this event that much more special.  We will be back!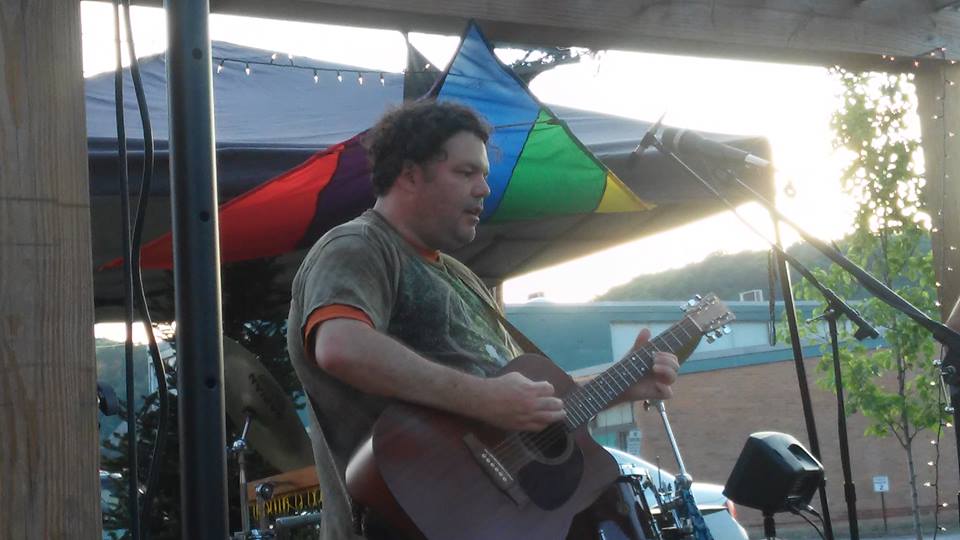 Wolfie's outdoors on a warm summer day!
And with less than a week left in the month we squeezed in one more gig on Monday at the Zelienople-Harmony Farmer's Market.  Dave and I played for an appreciative group of vendors and the occasional customer who decided to brave the heat.  The biggest crowd was at the nearby pool, so we gave them a shout a few times throughout the set as well.  The best part was going home with a bunch of homemade/home grown market goods!  

So with June wrapped up it's time to get on with the July schedule!

Here's what's coming up (more details on my shows page):

July 1:  Greensburg's Summersounds concert series.  I will provide pre-show entertainment for Peter Mawanga and the Amaravi Movement.  THEN later that evening I will perform along with Dave (as duo BFAM) at a Mr Toad's "afterparty" show just a few blocks from Summersounds.

July 2: Arsenal Cider at Soergel Orchards.  New spot for us!  BFAM (Brother From Another Mother) will play at this cool covered outdoor venue right in the orchard complex.  Try Arsenal's hard cider line made with Soergel's own apple cider!

July 4: Zelienople Community Park's 4th of July Celebration.  How about some afternoon entertainment before the big fireworks show?  BFAM will play between Wine and Spirit (great rock covers and originals) and Rodger Montgomery (blues legend).

July 8: Deutschtown Music Festival.  I will be performing in the James Street Gastropub's dining room (street level) and will also run sound for myself and all the other performers there that night.  This is night one of a two day event, over 150 bands in venues all around the North Side of Pittsburgh.  All FREE!

July 15: Band Jam Grass Roots Music Festival.  Annual live music event at Cooper's Lake.  BFAM makes their debut appearance there on Friday night, and there will be music happening all weekend!  See me or Dave for tickets!

July 16:  A morning Gig at the Butler City Farmer's Market, followed by an all day private party at "Ray's Ranch" where I'll play bookend sets among several other bands for which I'll also provide sound.

July 17: Return to The Sports Grille in Cranberry for a nice Sunday outdoor patio set 

July 28: A gig with my old friends Right Turn Clyde at The Firepit Wood FIred Grill.  

July 29th:  Off to the beach!  See you in August!

Thanks to everyone who spent these few minutes catching up with me, you're my besties!  Hope to see you out there soon!