So this update is a little late, and August is just rolling by.  This time last week I was just finishing up an awesome beach week!  Nice to take some time off and relax.  Oh but of course I still had to go scope out some potential gig spots for next year!  Anyway, so far this month one show already happened, one is about to happen, and a few that might get cancelled due to weather.  Just a few more and that's a wrap.  Check out my shows page for more info, but here's a little recap for July, and more about what's happening this month at the end of the post.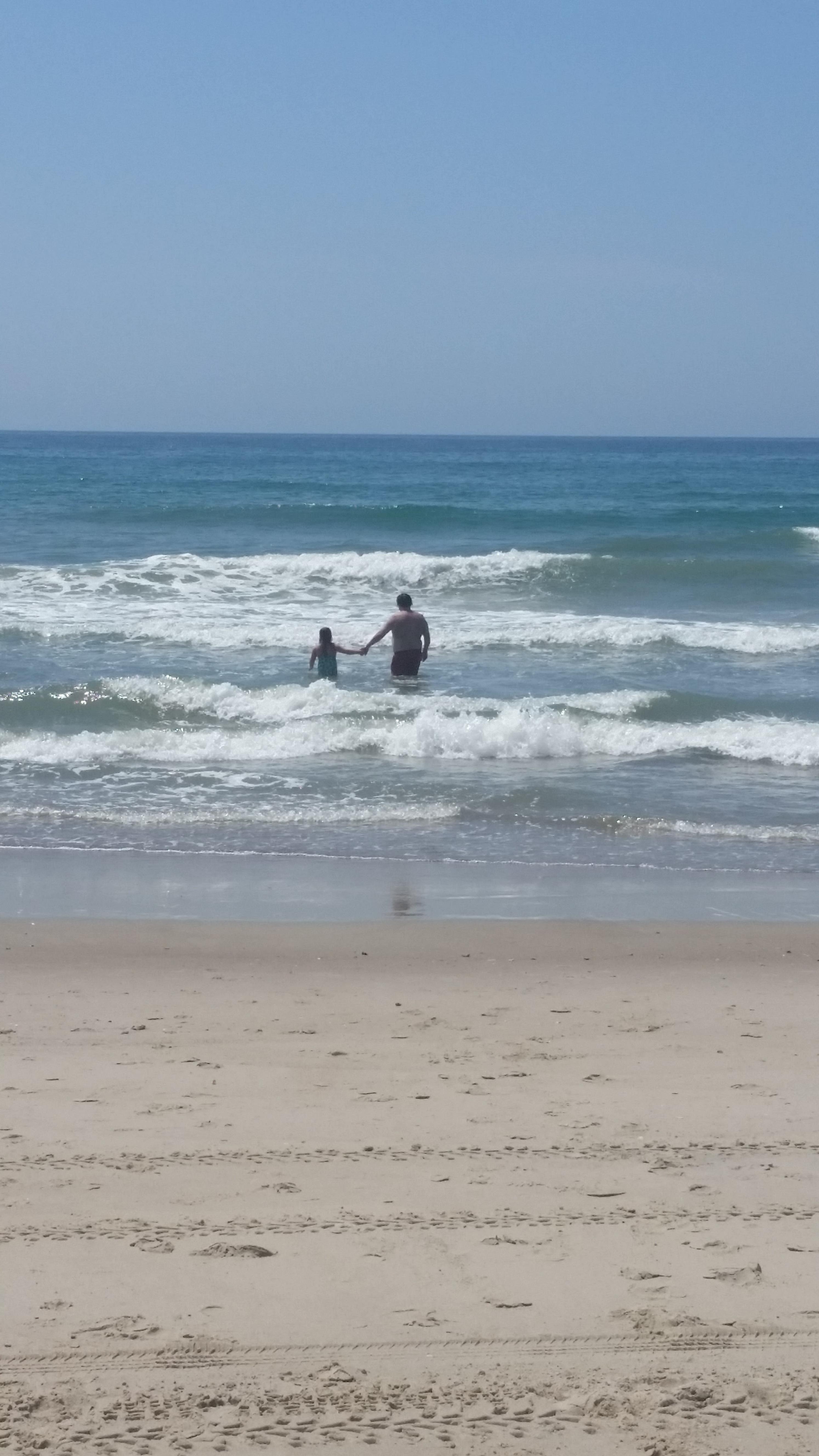 Tackling the waves with my kid!
So July was a good one!  Three action packed weekends and an odd gig here and there before the trip to Emerald Isle.
First up was the Summersounds concert series on July 1st, where I opened for Peter Mawanga and the Amaravi Movement on the big stage at St Clair Park in Greensburg.  Such a nice event to be part of.  Along with the performance at the park I also got to play at the nearby Mr Toad's that same night with Dave Hamilton as Brother From Another Mother (BFAM).  We had a great time and were asked to come back!  See you again soon Greensburg, it was a good time!
The next day was a BFAM gig at the Arsenal Cider location in Soergel Orchards Wexford.  They had fresh hard cider offerings on hand and a sweet covered patio that offers a cozy environment for sipping and listening.  Also very cool that it is pretty much in the middle of the Soergel campus where there's plenty to do including kids activities, shopping, ice cream,  berry picking, all while still within earshot of the music.    Our August gig was cancelled here due to weather, but can't wait to come back soon.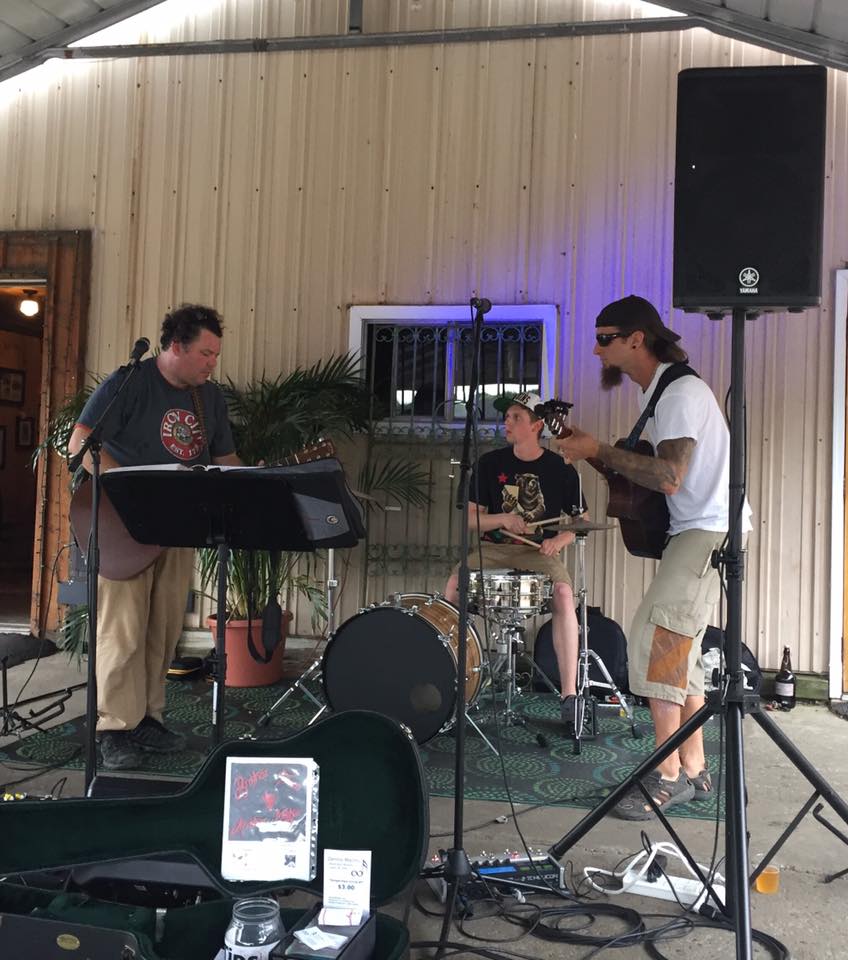 BFAM Jams Arsenal
On the 4th of July BFAM was at it again to entertain the crowds at Zelienople park.  We shared the opening bill with local greats Wine and Spirit, and we both had a had a really nice afternoon set before the rain came to soak the headliner Rodger Montgomery.  (he and his band still shredded it)
The following weekend started with a Friday show at the James Street Gastropub, where I ran sound for myself and a half dozen other artists for the Deutschtown Music Festival, a multi venue, multi band (over 170!!) event centered around the North Side of Pittsburgh.   Our group of musicians were in the dining room amid a huge crowd along with bands thumping upstairs and downstairs.  It was a great way to kick off the Festival!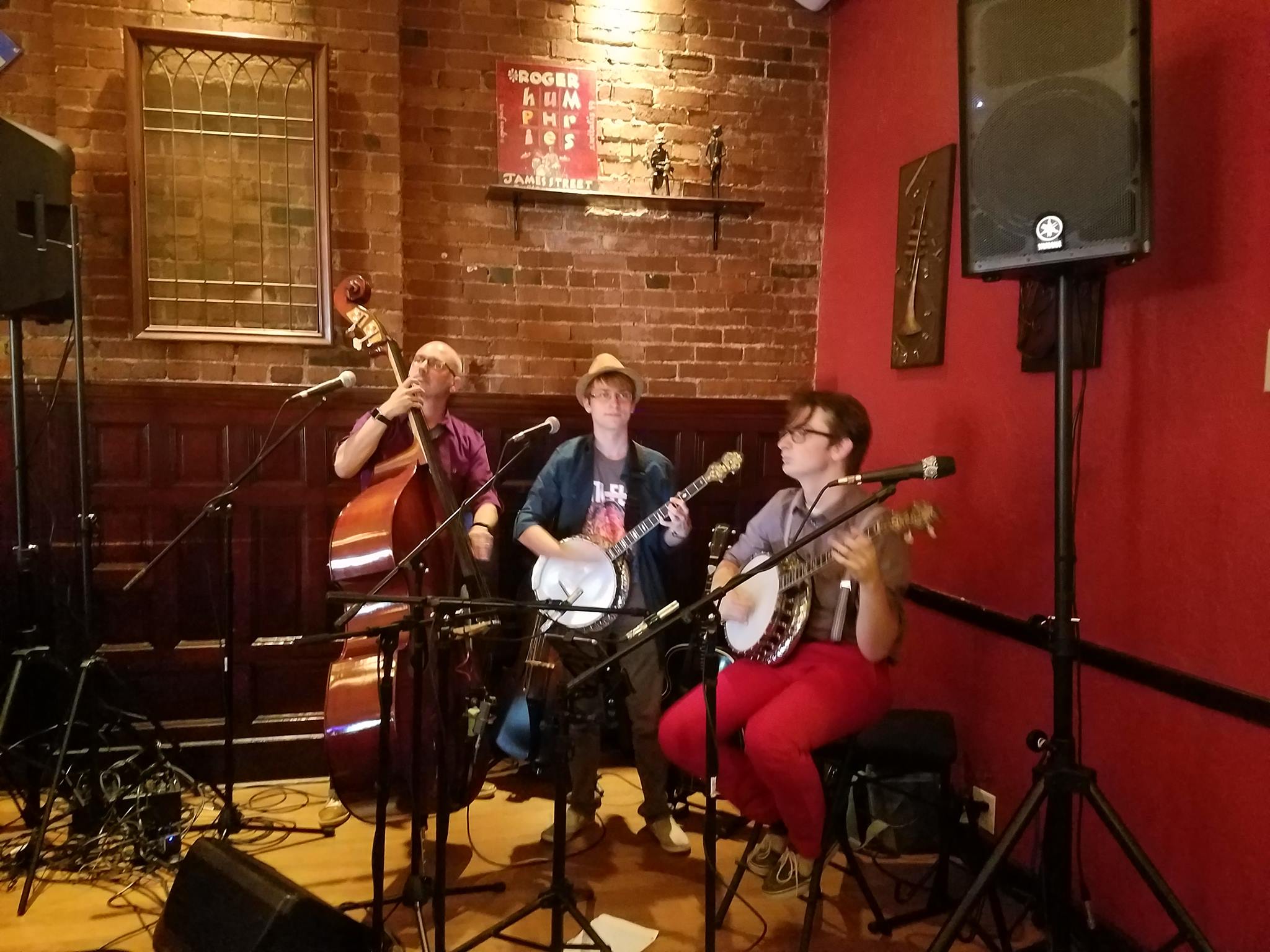 The Chiodi Trio kicks off Deutschtown 
The next Morning I performed at the Butler City Farmer's Market, sort of a tame and quiet gig that was the perfect complement to the prior night's revelry.  
On to the next weekend, another three-gigger.  First up was a Friday evening with Dave and drummer Sam Hogan as yet another iteration of Brother From Another Mother.  Sam's regular gig is with the band Stationary Pebbles, but he's been sitting in with us a lot lately whenever he has an opening in his schedule.  The three of us headed up to Cooper's Lake Campground to kick off this year's Band Jam Grass Roots Music Festival.   Such good vibes, we need to get up here again next year, and hope to see you there as well.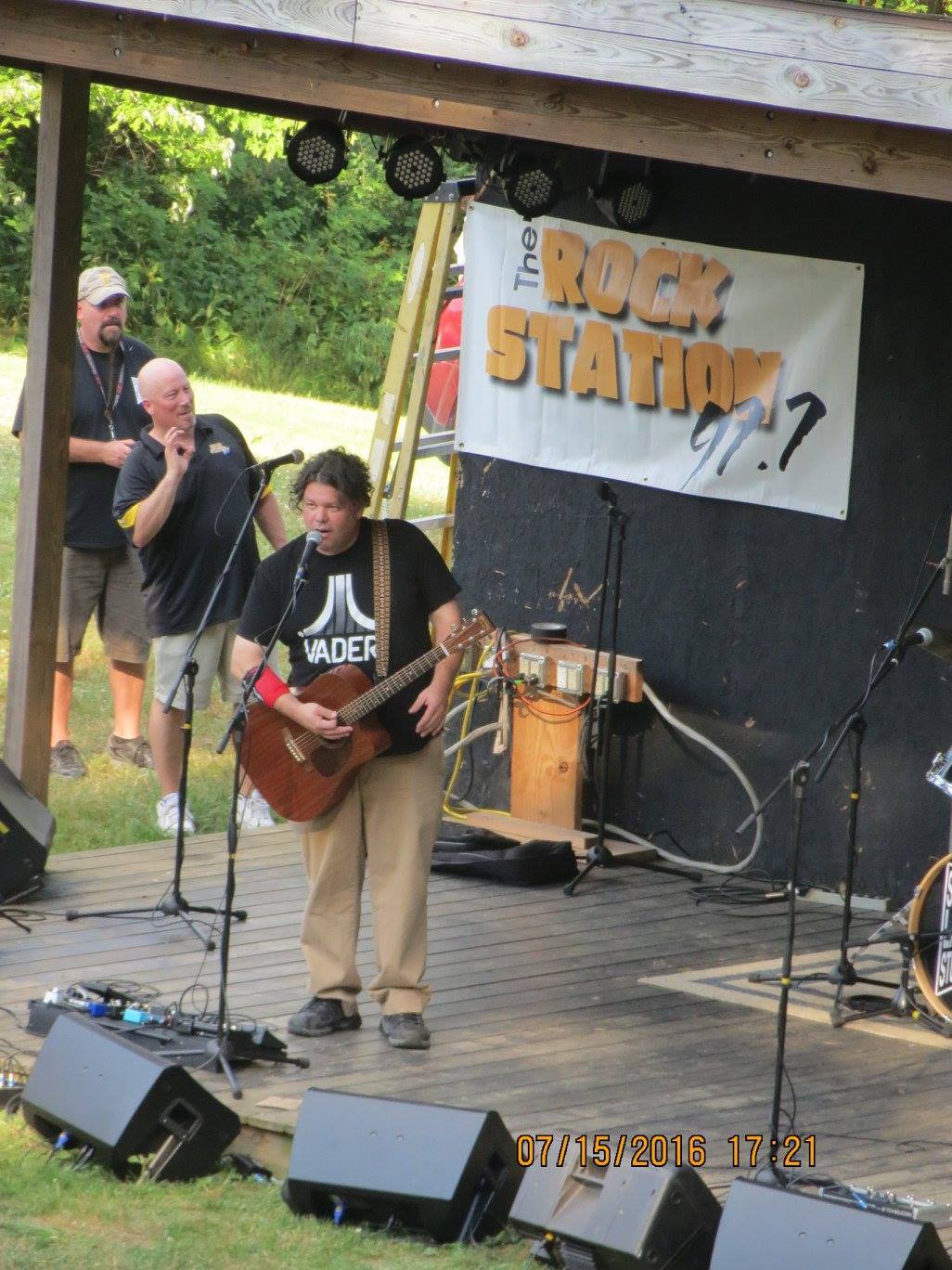 Band Jam sound check

The next day was a whole day of running sound and performing for a private party at "Ray's Rach" in Butler.  Rich Hein and his brother know how to put together a party.  Not one, but two stages of bands.  Food galore, beer kegs (with refrigerated backups on site!), and loads of space to spread out and dance, camp and explore.  There were some great bands on the ticket that night, including Ronnie Gunn's band Black Moshannon and Pittsburgh party rockers Rat Tits (lol).  I was also spontaneously joined by some other musicians for some improv jamming.  I love when that happens!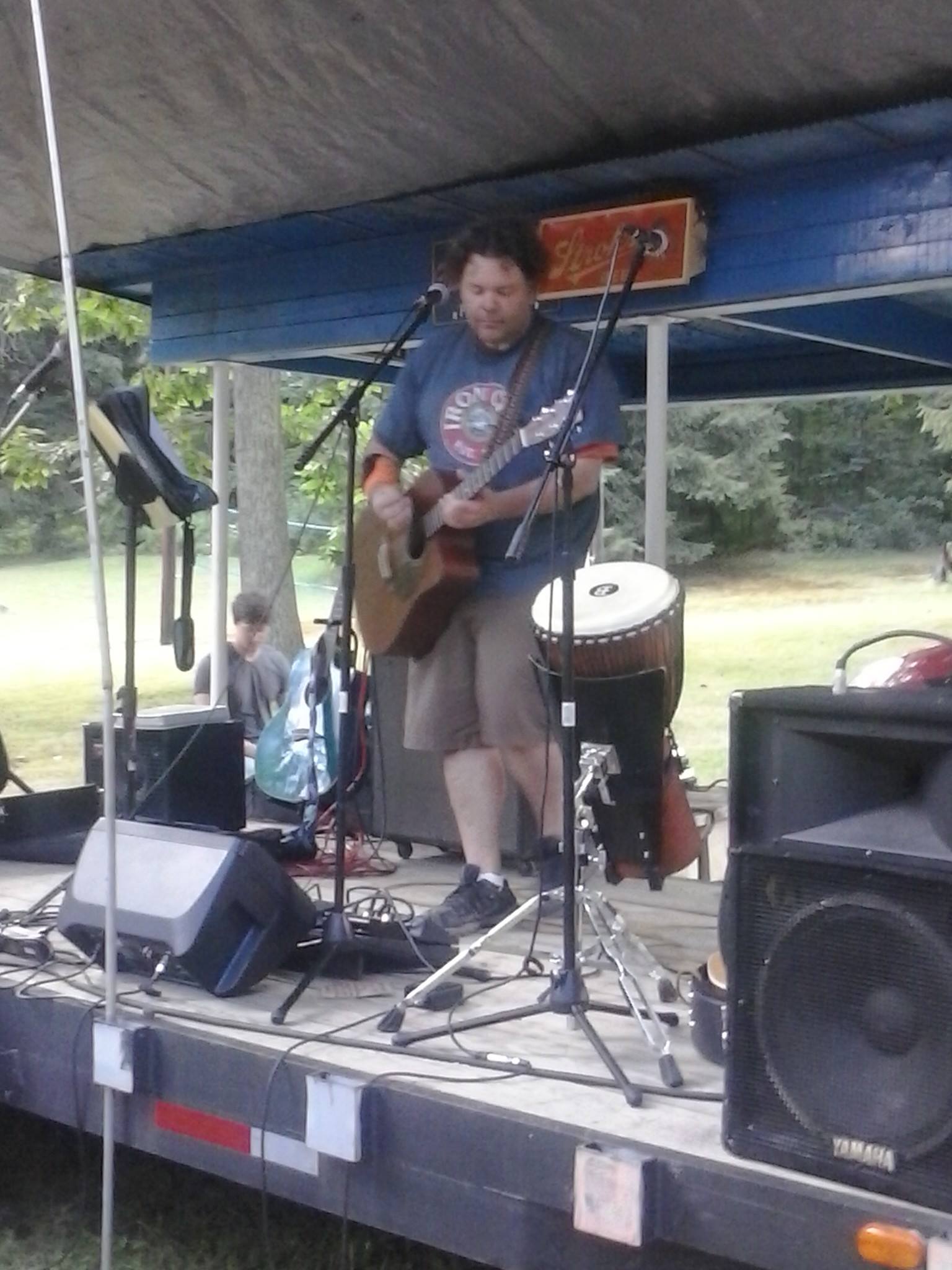 Rockin at Ray's Ranch


Finally, I wrapped up the weekend with a gig at the good old local Sports Grille in Cranberry Township.  So close to my house I can hear when bands are playing there.  My kind of digs.  Nice outdoor patio, great beer and food.  Their season is winding down, but there's an off chance I might get in there once more before the summer's over.  If not I definitely hope to play there a lot more next year.

Last but not least I squeezed in one final gig before heading off to the beach literally the morning after.   I joined my old buds in Right Turn Clyde to entertain at the Wood Fired Grill in Irwin PA.   This was really nicely furnished spot with a ton of great beers and tasty eats.  Usually when a place is named after their cooking apparatus the food turns out to be pretty darn good.  

And so hey that was my July - on to August!  As always check for more details including map to the venue, address, set times, relevant links, and of course any updates at my shows page.

August 11 - Pittsburgh Acoustic Challenge - this one already happened by the time I got this post up.  It was fun, I'll recap next month!

August 12 -  Rock All Night Tour (RANT) music festival.  I'm hosting the open mic at Hambone's  I'm literally gonna click to publish this post and head off to this one.

August 13 - Music at the Marina in Goddard State Park. - a quick set, myself and other perfomers of the pittsburgh Songwriters Circle are sharing an hour.  (weather pending).  Brother from another mother also had a set booked at Arsenal Cider in Wexford, but that one got called on account of rain (well really more due to thunder)

August 20th - BFAM at Slippery Rock Farmers Market. -  A really chill morning gig from 9-noon at magical Rock Falls Park

And that...is it.  I little chilled out this month.  I reckon September will pick up again, already lots of stuff in the works.  See you out there soon!