Hey friends,
Well March was a lot of fun!  I saw a lot of friends at the Quaker Steak and Lube gig on March 12th.  We had a wonderful night!  I also managed to squeeze in a last minute gig that same afternoon performing for the parade crowd down at Bar Louie on the North Shore.  That gig came about when me and the guys from Right Turn Clyde played there that Thursday night.  Also had a blast up in Butler, and I made some new friends opening for the band Red Room Effect up at the Monroe Hotel.  These guys are the real deal and great entertainers!  Check them out on 
Facebook
 and 
Bandcamp
!
But my favorite gig last month was the annual trek to Girardville, PA for the gigantic St Patrick's Parade and celebration.  Such a rich history in this little Irish coal mining town, and our host Joe Wayne is as gracious as they come.  This year our group was small - just Biddy Nye and I were performing, but we worked hard to learn all the Irish tunes and carry on the long standing tradition of the Pittsburgh Breaker Boys' journey to the Hibernian House.  We entertained Joe's bar crowd for two nights and he put us up in hotel rooms above the bar.  Friday night we played till the wee hours and woke up at 8am Saturday morning to a barful of wall to wall revelers already getting their drink on!  We also managed to make our way over to a nearby house during the day on Saturday, where a few families had joined forces to lay out a giant spread of delicious food, and we entertained passersby from their garage.  Many joined us in song, and we even had a bagpipe band's drummer stop and join in  for a bit.  All in all it was a fantastic weekend.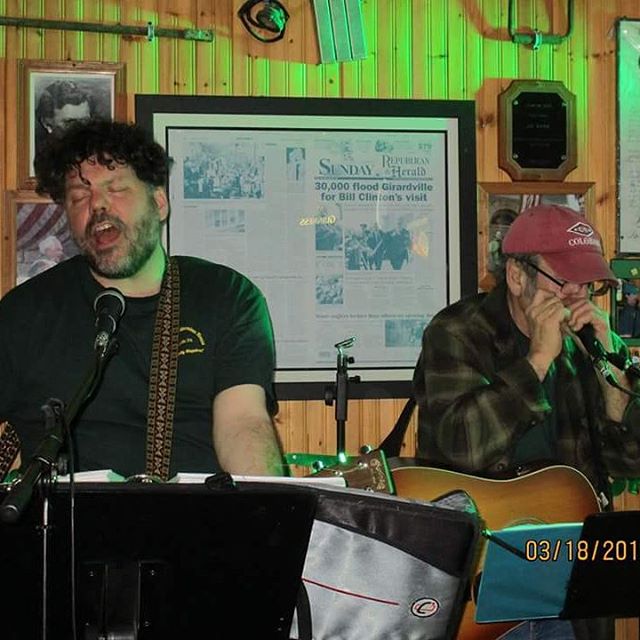 So what's in store for April?  
On the 9th I'll be joining up with Biddy Nye, Sam Gianetti, Marcy Brown, and Jeff Wiley to reprise the role of "The Replacements" - this was the moniker we took when we played in place of a snowed out West Virginia band at the Kline's House Party back January.  We got a great response so we return for another round!  
On the 16th I'll be back at The Commonwealth - last time I played there they were serving subs, and it looks like since then, they've changed over to burritos as their staple fare.  Oh and of course beer.   I had a wonderful time playing here in February, such a great room and a great crowd!  Looking forward to doing it again.
The following week I'm going to be busy - first stop, 4/20 at Reclamation Brewing in Butler.  I've been up here to see friends play, and this will be my first turn at the wheel.  This place brews some really good beer and has a great sounding room, so come on out!  
The next night I'm back at Bar Louie North Shore with Right Turn Clyde!  This is becoming somewhat of a regular gig, it's a really nice place, and fairly new.   Great food and beer selection.  Huge room where you can choose to sidle up to the bar, lounge in a booth or on a couch, or hang at a table.  
Two days later on the 23rd I'll be playing in the bar area at Pizza Roma in Sewickley.  I haven't played here in a while and I'm looking forward to it!  I like getting into different parts of town to give fans a variety of options for catching a show.  Hope to see you here.
For now that's it, check out my 
schedule
 for all the details.  And THANKS for your support!