Hey there.  Wow what fun was had in May! Things are moving along pretty solid here in Den land.
The time of the year for outdoor events is upon us, and with May taking on the typically April showers this year, you win some and you lose some.  My first event of the month was May 1st, the Pittsburgh Marathon, and after getting things off to a rain-soaked start, we were able to enjoy some rather mild weather for the rest of the day and entertain the runners as they made their way to the finish line.  I was joined by a few fellow songwriters that day from the
Pittsburgh Songwriter's Circle
for an enjoyable day of fun music.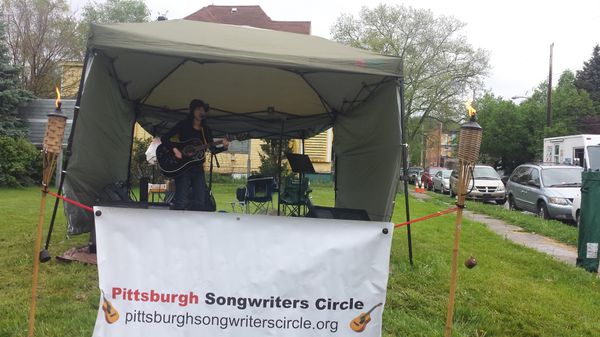 Dori Cameron entertaining runners at the Pittsburgh Marathon
Next up was
Ragoo Festivoo
, where I had a relatively short but sweet set on the acoustic stage.  Even though the nights were a little chilly, and we had some rain spotting throughout the day, all in all it was a fabulous weekend with plenty of awesome bands to kick off the season up at gorgeous
Rock Falls Park
.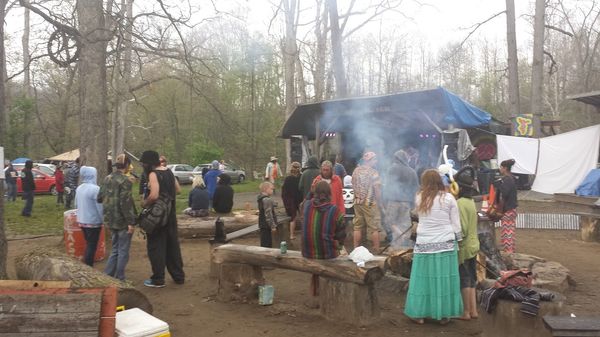 Slightly soggy Raggoo revelers.
The following week took me indoors to my first gig at
Beerhead Bar
where the mild weather prompted them to fling open the garage-style window/doors and let the music spill out onto the streets.  I also got to invite Dave Hamilton up to join me for several songs as we continue our journey as Brother From Another Mother.  What a fun night!  Shout out to my cousin and his girlfriend as well as few other friends for making it out to see me!  Also kudos to the several couples who were moved to dance during most of my set!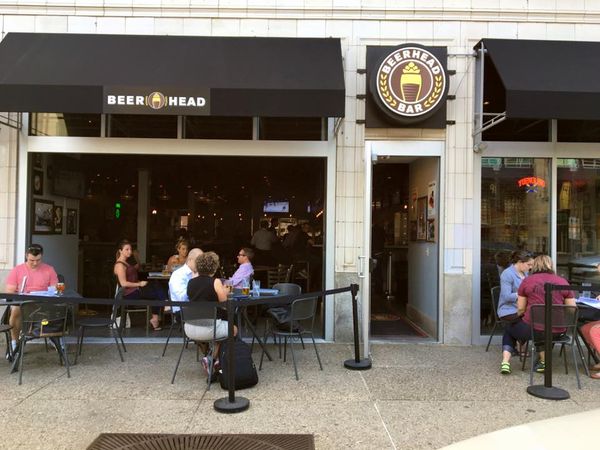 Beerhead Bar's very cool open patio setup.  The stage is about 20 feet from that big open window.
The next event was another outdoor venture and this time the weather was perfect!  It was the grand opening of the
Harmony Inn's
outdoor patio area and we had a fantastic crowd to join us as Dave Hamilton and I did a set as
Brother From Another Mother
.  Also playing that day was
Wine and Spirit
, Steve Short from
Stationary Pebbles
, Aaron Shaffer, and to wrap up the night,
The Skipper Johnson Band
put on a great set!  The Inn was hopping till way past close!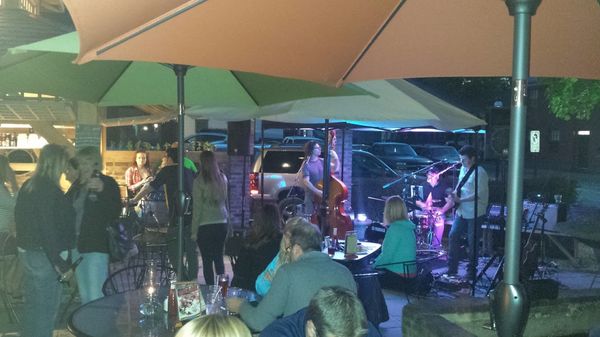 Skipper Johnson Band rocking the patio.
 
Finally to wrap up May I did a small set at the
Venture Outdoors Festival
, where I also set up and ran sound for the day as several members of the Pittsburgh Songwriters Circle joined in entertaining the crowd down at Point State Park.  Once again we got a good bit of rain, but our great placement right by the park's bridge allowed us to retreat from the rain (and keep our equipment dry)!  The show went on, and we still had a good handful of appreciative listeners.  Actually the coolest part was how the bridge formed this sort of natural echo/reverb chamber!  I plan to go back there to record a few things and see how it turns out. 
Before, and...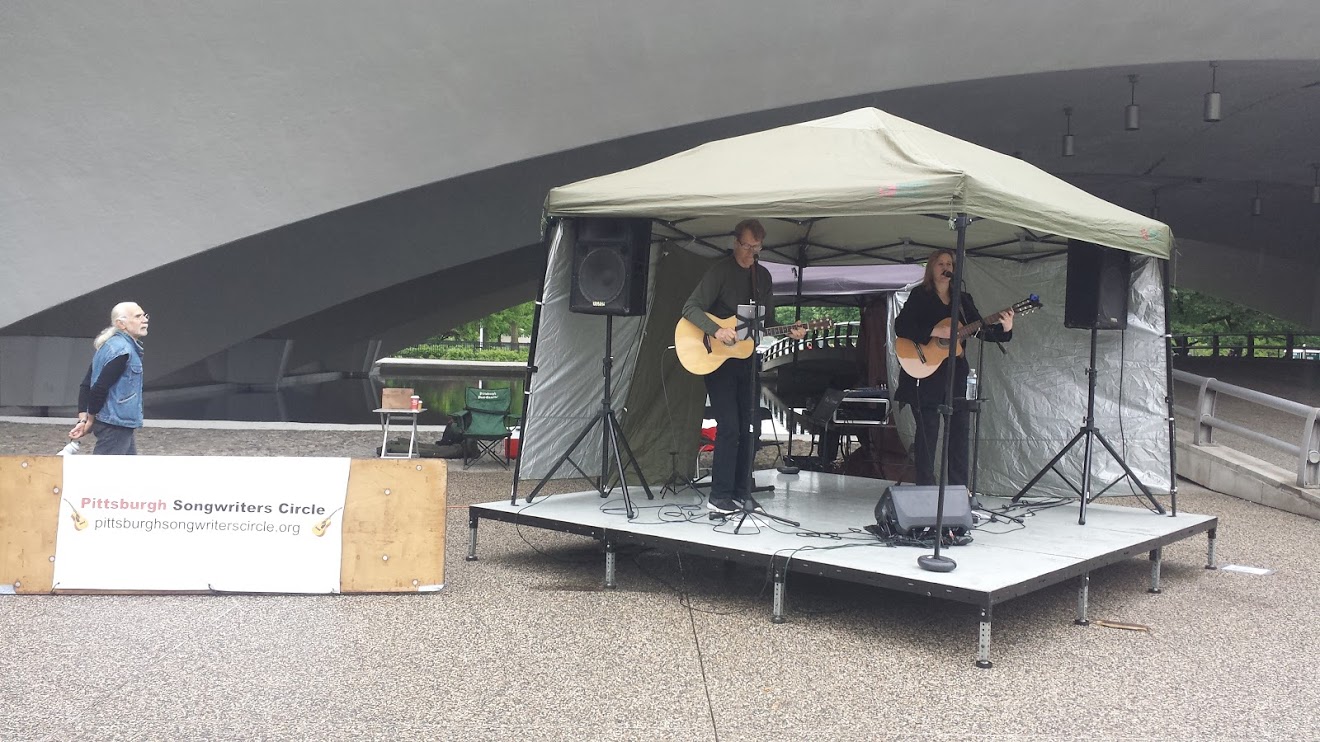 after the rain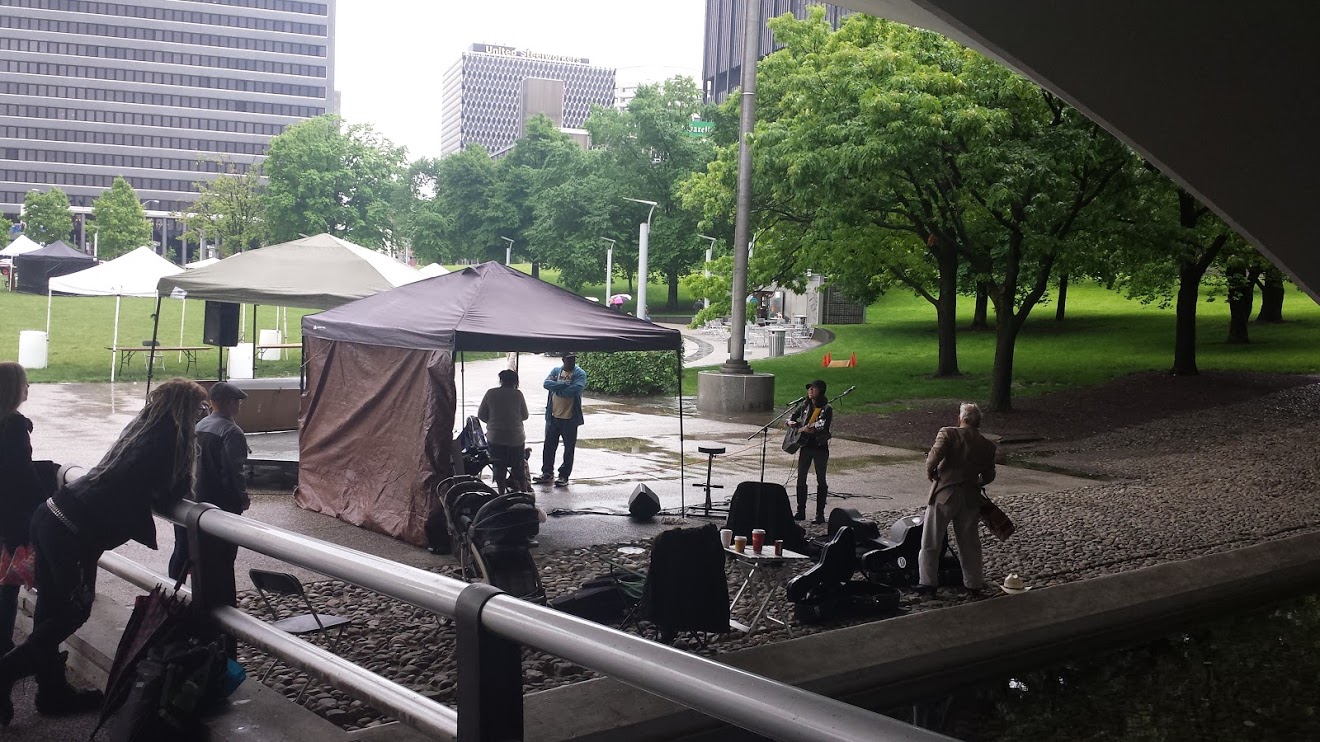 I'm taking this weekend off for a road trip, but it also gives me a chance to post my June events early because this one's gonna be a doozy, kicking off with a crazy four-gig weekend!   (If you want, you can skip all the jibber-jabber below and just get to the details on my 
Shows page
)
Friday June 3rd
I'll be taking part in the
Layer Cake Music Festival
 (Facebook event page
here
), an event hosting over 170 bands in four different venues around Pittsburgh.  I'll be part of the Friday lineup, taking an early set at
James Street Gastropub
at 5:40.   
That same day I'll head up to New Castle to join Dave Hamilton for some
Brother From Another Mother
madness, and we are gonna kick off our shoes for this gig! Sam and Ollie of
The Commonwealth
provide a great atmosphere for creative expression, and Dave and I plan to take advantage of that to really stretch out on some jams and see what we can do.  
Miranda Snyder
will be joining in the fun to open up the set.  Weather permitting, we will be outside on the patio.
Saturday June 4th
starts with a lazy float down the Connoquenessing Creek, ending at a landing point where Dave and I will jam some BFAM tunes, along with Stationary Pebbles.  This event has been dubbed
Launchapalooza
 (more info
here
) and will commemorate the opening of two new launch points along the Conny, sponsored by the
Allegheny Aquatic Alliance
, who have also done a great amount of work over the past several years cleaning up and improving area waterways.
Later that evening I'll be heading up for another performance at the
Double Wide Grill
in Cranberry!  Top notch food and beer, great staff, and nice big room!  I've played here a few times now in the colder weather, but I'm looking forward to seeing how they open the place up in the summer! 
Saturday June 11th
I'll be in Harmony for the annual
Springfest
celebration.  This is an early set (starting at 10am) playing in front of the historic Harmonist Barn.  Dave Hamilton is going to join me for a few tunes at this one.
Thursday, June 16th
is my first time playing at
The Sports Grille
in Cranberry.  This one is so close to home I can actually hear the bands playing here from my backyard!
Saturday June 18th
I'll be back up at the
Zelienople Amphitheater
with Brother From Another Mother playing in between
The Bees Trees
and
The Chop Shop
.  Great outdoor setting for a FREE concert!
Friday June 24
I am going to be taking on
Wolfie's Pizza Hearth
in Freeport.  I love this place!  Owner George Wolfe dubs it "a live music spot with a pizza shop in the back," indicating his focus on the music first.  If we get some nice weather that day, we will take the party outside to the park right next to his shop.  Dave Hamilton will be joining me for some jams on this one.